Aspiron Concept
Advertising
Aspiron Concept Advertising is a full-service advertising design agency that also delivers graphic design, web design, print ad design, media production, creative services, and promotional items for small, mid-size businesses, marketing professionals and corporations.
We believe in the value of integrated solutions. Businesses need a clearly defined brand proposition, a driving vision, and a distinctive execution. We can work with you to make it happen. We also believe that every client is different and that every situation requires an individually tailored solution. We like to keep things simple and let the results speak for themselves. We specialize in corporate communications, brand strategy, product development, product launching, public relations, and advertising. We know there are a lot of businesses that offer advertising design services but none are like ours. What separates us from them is creativity, trust, and experience. We do the work in a timely manner and within budget. We are here to manage your projects and execute them so that it adds great value to your business.When you have to run a business or office we are here to help you execute all your design needs and beyond. Our expertise guarantees quality, competence, and rapid execution of projects – from small websites to complex e-commerce software and custom tailored applications. We develop unique website solutions and applications to increase efficiency and competitive advantage of our clients.
At AspironConcept, advertising is not merely a business, but a professional commitment.  We know that ideas and imaginative solutions are vital to make our client's brand stand out from the crowd connecting with consumers in a striking and persuasive manner.

Plan

We'll carefully study your technical and content constraints, and help you rank everything into an actionable roadmap that can drive the design process.

Design

We vow to deliver Highest Quality Design. We are passionate about design and branding. We aim to produce quality portfolios that are easy to use and detail oriented.

Build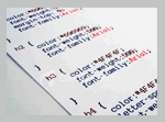 We deliver detailed and clear designs and specifications, and continue to provide ongoing support for development.

Measure

It's not always possible, or smart, to do everything at once. We work with you to make changes that have the most effect first, and provide for how a solution may grow in the future.